To Seek a Dream
Composer: Alex Cook
Performed by: Alex Cook on keyboard and strings, Hannah Brock on the Chinese Harp/Zither instrument called the Guzheng, and The Chapel Choir of Selwyn College.
Location: This piece and its historical context are closely linked with the Botanical Gardens on Trumpington Street, CB2 1JE.
This audio file is a recording & edit by Historyworks:
Lyrics:
Selected by the composer, Alex Cook, to use in the score and inspired by the Xu Zhimo's poem 'Taking Leave of Cambridge Again'.
To seek a dream
Go punting in the sunshine,
Upstream to where the grass is greener
Historical Context:
On the footpath behind the bridge of King's College is a memorial stone to the renowned Chinese poet Xu Zhimo. On this stone are inscribed a few lines of his 1928 poem which has various translations, such as "On Leaving Cambridge" and "Saying Goodbye to Cambridge, again". With this piece, we are taking the title "Taking Leave of Cambridge Again" and we are pinning the song further up the river, to where it meanders through the meadows at a place called "new bit", opposite the botanic gardens on Trumpington Street.
As one of modern China's most influential poets, Xu Zhimo shaped an image of Cambridge for Chinese and English readers that has endured to the present day. Although he only spent a short time in Cambridge, studying at King's College between 1921 and 1922, it left a lasting impression on him.
When he returned to China he started writing poetry inspired by the city, including pieces such as 'Spring', 'Wild West Cambridge at Dusk', 'Cambridge', and the prose piece 'the Cambridge that I knew' in which he referred to the city as "xiang", which translates as 'native place'. He wrote, "My eyes are opened by Cambridge. My desire for knowledge is stirred by Cambridge. My self consciousness takes its embryonic form in Cambridge."
Taking Leave of Cambridge Again
By Xu Zhimo

Softly I am leaving,
Just as softly as I came;
I softly wave goodbye
To the clouds in the western sky.

The golden willows by the riverside
Are young brides in the setting sun;
Their glittering reflections on the shimmering river
Keep undulating in my heart.

The green tape grass rooted in the soft mud
Sways leisurely in the water;
I am willing to be such a waterweed
In the gentle flow of the River Cam.

That pool in the shade of elm trees
Holds not clear spring water, but a rainbow
Crumpled in the midst of duckweeds,
Where rainbow-like dreams settle.

To seek a dream? Go punting with a long pole,
Upstream to where green grass is greener,
With the punt laden with starlight,
And sing out loud in its radiance.

Yet now I cannot sing out loud,
Peace is my farewell music;
Even crickets are now silent for me,
For Cambridge this evening is silent.

Quietly I am leaving,
Just as quietly as I came;
Gently waving my sleeve,
I am not taking away a single cloud.
(6 November 1928)
To find out more about the history that has inspired this composition and its lyrics you can visit the Historyworks website.
Click on the film link below to access a fun film showing the route and the process of the Cycle of Songs journey: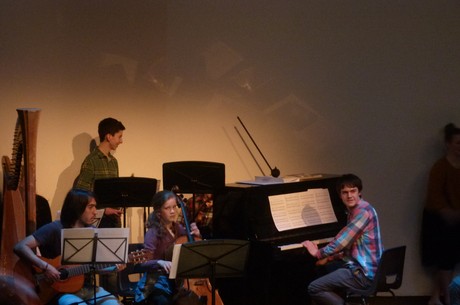 Adult chorus (The Choir of Selwyn College)
5 guzhengs (Hannah Brock)
3 violins (Alex Cook)
1 viola (Alex Cook)
1 cello (Hannah Brock)
1 bass (Alex Cook)
1 piano (Alex Cook)