Alex Cook, Composer and Performer
"Being a part of the Cycle of Songs project has given me an opportunity to write a piece involving a large chorus: something that I've not done before.
It's perhaps appropriate that the subject of the poem my piece is inspired by is leaving Cambridge - as this is something I also seem unable to do: I was born here and am currently studying Music at Selwyn College, University of Cambridge.
The poem is by the Chinese poet Xu Zhimo, and although written 86 years ago, it still typifies the Cambridge atmosphere perfectly. I have responded with a reflective and gently flowing piece, which unfolds with the journey of the poem.
Fittingly, I was asked to include a part for Hannah Brock to play on the guzheng: an ancient Chinese harp. I first wrote for Hannah a few years ago at Aldeburgh Young Musicians; she has since performed as a member of my ensemble and appears on my album 'The Deacon of Myrká', which can be listened to here:
http://alex-hler-ensemble.bandcamp.com
To learn more about Alex's composition and to hear a demo version of it you can visit the
Sound Files page
.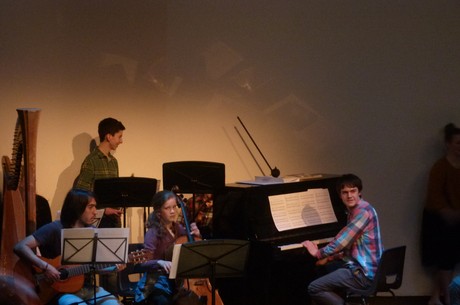 Have a listen to my other work on Bandcamp:
and follow me on Facebook:
and Twitter:
To view pictures of Alex's involvement with Cycle of Songs click on the slideshow below: