Andrea Cockerton, Composer
"Anthemic, quirky, quick to learn, and historical." That was (in a nutshell) the brief for my involvement with the Cycle of Songs, and a great one at that - challenging, broad and allowing lots of musical freedom. Having lived and worked in Cambridge for over 20 years, it's great to be able to contribute musically to the life of the city at a point where it welcomes cyclists, fans, families and media for one fantastic and thrilling event, and where the music has a chance to play on through the app that's being created as part of it all.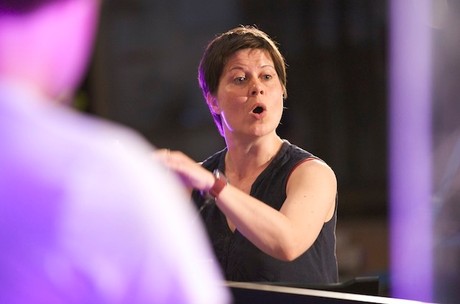 'Reality Checkpoint – Parker's Piece' is a cheeky, fun track. Lyrically it draws upon much of the history of the green (although unfortunately we couldn't squeeze it all in!) and you'll hear references to games played during the celebrations of Queen Victoria's Coronation in 1838, as well as a handful of idiosyncratic sporting cries. It's been composed to be allow crowd participation on some of the simpler chorus-like riffs, but has also had some quirky 'underparts ' built in for the choir singing underneath the tune to keep them interested! The instrumental arrangement adds even more to the mischief and character of the track with alternating chromatic riffs and the funky bass line.
From a composing perspective, this has been a new experience. The majority of work I've written to date has either been working with existing poems or lyrics (such as my 2013 setting of Wendell Berry's beautiful poem 'Broken'), or more introverted compositions like 'It's a case' which have a strong singer/songwriter feel. Both of these can be heard on my soundcloud page if you fancy a quick listen. My current work focuses mainly on creating a robust repertoire for the musical collective I launched in 2010 (The Dowsing Sound Collective - currently totalling around 100 arrangements in between 4-20 vocal parts and <20 instrumental parts… a logistical challenge!) and working in collaboration with artists as diverse as Basement Jaxx and Megson.
With regard to the Cycle of Songs, to compose with such a strong focus on history while creating something that could be learnt in super quick time by people with little experience of reading music, and to round it all off by creating an anthemic feel that could draw the crowds in, was therefore a little daunting.
But, to be honest, it was quite a lot of fun too.
To learn more about the piece that Andrea wrote and composed you can visit the Sound Files page.
Original compositions: www.soundcloud.com/andrea-cockerton
A few clips of arrangements: http://thedowsingsoundcollective.com/clips-footage/
Dowsing's YouTube channel: https://www.youtube.com/user/DowsingSoundCollect
Twitter: www.twitter.com/dowsingforsound
To view pictures of Andrea's involvement with Cycle of Songs click on the slideshow below: