History stories
For Cycle of Songs nine songs and sound poems were commissioned from a wide range of composers. The songs are inspired by the stories of nine iconic locations along the route that the Tour will take in Cambridge. The lyrics for the songs and poems are taken from research led by Historyworks, undertaken by local people, research students and history groups into the hidden stories of Cambridge.
On the 5th July 2014 an audio app, designed by software services company Calvium, of the performances of all the participating choirs will be available for free. It is designed to be listened to along the route of the Tour de France, through central Cambridge from Parkers Piece, into town, around the Round Church, up to Great St Mary's, along King's Parade and out of town past the Fitzwilliam Museum and Botanic Gardens to Trumpington.
The aim in the app part of the project is to create two interweaving guides for residents and visitors to Cambridge to enjoy. There will be the Cycle of Songs to listen to along the route, and some historical context and photos for each location.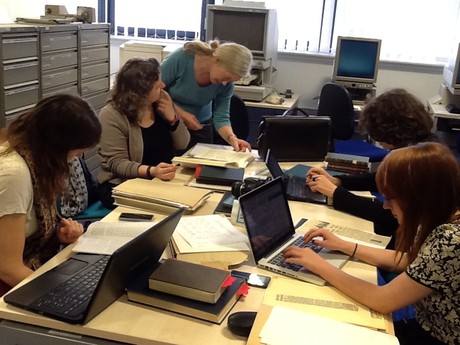 Both tours take the visitor around Cambridge using the route of the Tour de France. The first will be a eclectic set of stories, giving the context to the fragmentary lines used for the Cycle of Songs. These stories are a kind of 'hidden' history, with a focus on entertaining the trail user rather than giving them a comprehensive history of Cambridge. It is during the research for this trail that Helen Weinstein with help from her team of historians and archivists have drilled down into original source materials to seek out suitable words for poets and librettists and musicians to inspire the Cycle of Songs compositions.
You can see how the history project for Cycle of Songs is developing by going to the Historyworks website here: http://historyworks.tv/news/2014/03/13/cycle-of-songs/